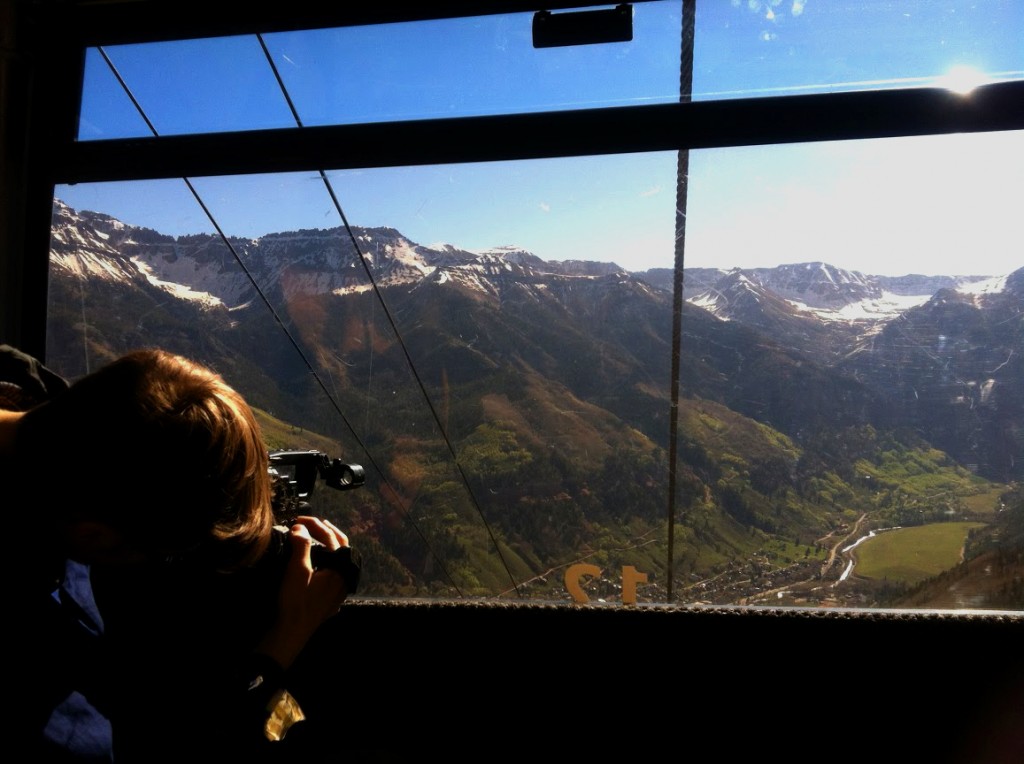 When's the last time you found yourself suspended over a sunlit mountain at 9,000 feet?
Of the many wonders on our recent trip to Telluride Colorado, it was these regular twilight gondola rides that got me thinking about the work we do at Good Eye Video. This bird's eye view of natural beauty, with a glittering resort town in the distance, is emblematic of the point of view we begin many of our projects with. Broad, fuzzy strokes of a social issue viewed from an enclosed space (viewfinder or monitor). It's a fascinating vantage point, but it can get a little lonely too.
It's not often we get to spend time with fellow storytellers… people who devote their waking hours to creating images that engage and move people. This seems both a practical problem (no one to talk shop with) and a motivational one. How do we remain grounded and engaged and inspired by all that we see?
Which brings me to the reason for our trip to Colorado. Mountainfilm is a film festival dedicated to "inspiring and motivating audiences about issues that matter". Each year it brings some of the world's most creative and committed outdoor adventurers, environmentalists and social activists to the high mountain paradise of Telluride. We traveled with our friends at ioby.org to document a very cool project, funding a community Aquaponics project. (Much more on this particular video soon!)
In typical fashion our trip unfolded organically… leading us from lecture halls to mountaintop organic farms to an ice cream social on Main St. Amongst the craziness of the shoot itself, we did make it to a few of the amazing films and panels. It was incredibly inspiring to hear everyone from veteran journalists, to first time directors discuss their work and the current climate of change making. My favorites were listening to John Hockenberry (maybe one of the smartest people alive) and watching God Loves Uganda (a doc everyone should see this year).
But it was James Balog, (the force behind the amazing doc Chasing Ice), that struck me the most. As a veteran National Geographic photographer, James struggled for years to tell world about the catastrophic effects climate change is having on the environment he photographs. But, after his doc came out, he realized that films have a power that his photos never could. He explained how he's reoriented his entire focus as a journalist to speak the language of our time; video. This sounds like a pretty simple revelation, but it was a powerful reminder to me that even our most talented storytellers are looking to the moving image. James and his fellow panelists encouraged us all to push forward and look for new ways to use film/video to tell the story of climate change.
We came to Telluride to work… to remain studiously inside our gondola. Instead Mountainfilm left both Erin and I with an unexpected appetite to get out and walk around a little. It left us hungry to push the boundaries of what video can do to create a better world. We thank ioby and all our clients for providing us with these opportunities to see something from a new place and re-imagine our own way of looking at the world.