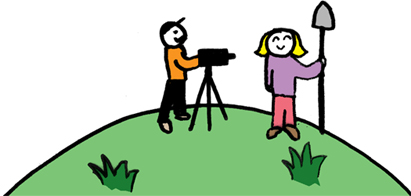 The possibilities are endless…
We've found that every organization can use video to tell their story in a
creative and effective way. Here are a few ways we make that happen.
Personal Stories
Hands down, the most effective videos use a story of a single individual
to inspire connection, emotion and action. >>> See an example

The Calling Card
When it comes to exposing the masses to your mission, you need a calling card. This
type of video boils down your message to its essentials and provides an avenue
to connect with people learning about you for the first time. >>> See an example
The Brochure (aka The Mission Video)
Sometimes you need a video that can go a little bit deeper… exposing audiences to
the breadth of you work. We believe a brochure video should still be focused on
emotionally engaging an audience every step of the way. >>> See an example
Event Videos
Video can be incredible when it comes to extending the impact of an event. We try to
document events with energy and passion, still keeping our eyes and ears open for
those stories that will get viewers to connect. >>> See an example
Video Campaigns
We like to produce videos that work hand and hand with print & social media. Our
video campaigns are the lynchpins of a solid, cohesive marketing strategy.
>>> See an example
Holiday Cards
Nothing can remind supporters about your cause more than a well-timed holiday
card. It's a great & simple way to draw attention to your work during that cluttered
fund raising season. >>> See an example

Can we help tell your story?
There is nothing we enjoy more than working with people trying to change the world. We're happy to discuss the ways (big and small) that you can use video to tell your story!
For information or help getting started on a new project…
e-mail: dan@goodeyevideo.com
or call: 917-623-3179